These are lightest when you give the batter time to rest before adding baking powder and blueberries. You won't believe they're grainless—enjoy!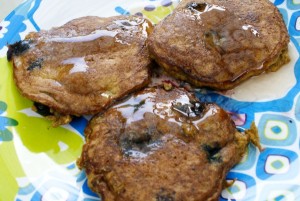 In a small bowl whisk together: 
¼ c. coconut flour
1 tsp. cinnamon or 5 spice powder
1 Tbsp. ground chia seeds
2 Tbsp. xylitol sugar
In a large mixing bowl stir together:
½ c. almond milk, or other milk substitute
4 large eggs, or three whole eggs and one egg white
1 Tbsp. vanilla glycerite, or 2 tsp. vanilla extract
Whisk dry mixture into the wet combination. Let stand a minute or two to thicken, then whisk in 1 tsp. baking powder and fold in 1/3 to 1/2 c. fresh blueberries.
Scoop about ¼ cup of batter for each pancake. Drop onto a preheated, greased griddle. Flip when edges have set. Serve with your favorite toppings. Yields 8 to 10 small pancakes.
If blueberries are frozen, instead of folding into batter, place 4 to 6 berries on top of batter after pouring onto the griddle.
Leftovers freeze well; allow to cool thoroughly before placing in vapor-proof wrapping.
Compliments of Organic Annie's Green Gourmet Kitchen