Fresh Berry Sauces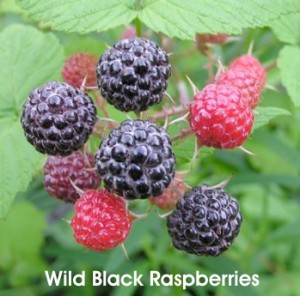 This year we have a "motherload" of sweet, fat, juicy berries in the Northeast! They're scrumptious and full of anti-oxidants, but are also prone to mold, so keep them dry by storing in well ventilated containers and refrigerate or freeze soon after picking. Wash fresh berries just before eating and eat within 2 or 3 days of harvest.
I usually use fruit juice or nut milk for the base of my berry sauces and thicken with either arrowroot or kuzu* (kudzu) root starch. Both are less refined, less allergenic and more nutritious than cornstarch or flour (wheat). Use the same proportion of thickener to liquid—1 tablespoon of root starch for each cup of liquid—and be sure to combine both with cold liquid before heating.
Basic Berry Sauce
Yields 3+ cups
2 c. nut milk, or fruit juice (no added sweetener is necessary with juice)
2 Tbsp. arrowroot, or kuzu root starch
2 to 4 Tbsp. sweetener of choice (I like xylitol or maple syrup)
2 to 3 cups of fresh berries, washed and drained (sliced, if strawberries)
1 Tbsp. lemon juice
Heat 1 1/2 cup of liquid in a 1 quart sauce pan (stainless, glass or porcelain coated). Combine thickener of choice with the remaining 1/2 cup of unheated liquid. When the liquid in the sauce pan begins to boil, stir in the thickener solution. Stir continually while the sauce thickens to prevent scorching or lumping. Add sweetener, berries, and lemon juice, and bring back to a simmer,
continuing to stir. Cook for a few minutes to soften berries a little. Pour into a serving dish and cool on a rack, then refrigerate to thicken more, or serve warm.
*Kuzu, known as "the weed that devoured Dixie", is actually a very useful plant! It's used therapeutic-ally to treat alcoholism and hypoglycemia. It's soothing to the digestive tract and creates a thicker more, custard-like texture than arrowroot. It's my favorite starch thickener because of its high antioxidant content and texture.