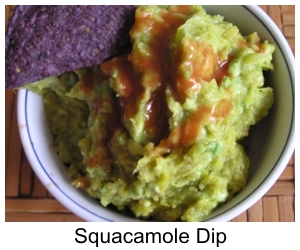 Squacamole
(Squash/Avocado Dip)
Entertaining for the bowl season? This is a version of the old fave, guacamole, with a new twist—it contains less than half the fat and has a slightly sweet nuance because it's about half squash. Avocado and winter squash pair up surprisingly well. Or perhaps it's not so surprising for students of food combining: avocado combines well with starchy foods. Some of my guests like this better than guac! Serve with your favorite chips.
Squacamole
Yields about 1 3/4 cups
1 ripe avocado
1 c. baked winter squash*
2 Tbsp. lemon juice
1/4 tsp. each salt and nutmeg
hot sauce to taste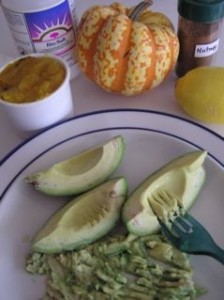 Peel avocado and mash it on a dinner plate, with a fork. Stir in lemon juice. Spoon squash over mashed avocado, sprinkle salt and nutmeg over top and mash all together with a forks working the edges into the center. Either stir in some hot sauce or pour it over top just before serving, as in the photo to the left.
*I like to use a small sweet squash like delicata or carnival. This is also a great way to use leftover squash and to get non-squash aficionados to eat it.