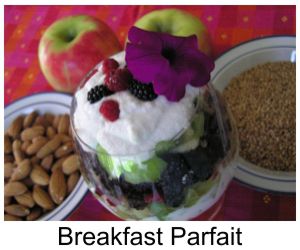 This festive, raw breakfast treat is suitable for vegan and wheat/dairy-free diets. Shorten morning prep time by making the Nut Cream and the Breakfast Pudding the night before. I recommend that you use organic fruit whenever available. This was adapted from recipes in Organic Annie's Fresh Tastes for Breakfast (wheat and dairy free), by Ann Miller-Cohen, Earth Angel Publishing, Manlius, N.Y., 2005 (click here for more information and to view parts of this lovely and exciting book).

Makes 4 to 5 cups
1 large or two small apples, or other diced fresh fruit* (about 2 c.)
1 tsp. lemon juice
3 kiwi fruits
1 c. fresh berries (a mixture of red and black raspberries and blackberries is pictured)
Wash apple and kiwi under running water and drain. Place berries in a strainer and quickly rinse and allow to drain while preparing the other fruit. Grate apple and toss with lemon juice. Peel and dice kiwi. Com-bine the apple with the Breakfast Pudding.
In parfait glasses, or other suitable stemware, arrange ingredients in layers as follows: apple/Breakfast Pudding mixture, kiwi, Nut Cream, berries. End with berries.
Garnish with unsprayed, mint leaves or edible flowers, if desired. Choose from organically grown: petunias, violets, pansies, mallows, or sorrel. Shake or spritz whole blossoms with a gentle cold water spray to debug and wash. Shake or spin out moisture.
*Mangos, peaches, nectarines and pears work nicely too and provide more juice than apples.
Nut Cream
Yields about 1½ cups
¾ c. hulled, raw nuts (almonds, walnuts or pecans work well)
2 c. purified water (for pre-soaking-this water will be discarded)
¾ to 1 c. purified water
Optional additions:
½ tsp. lemon juice
1-2 tsp. maple or agave syrup, or 1 tsp. raw honey; or a few drops of stevia liquid sweetener
Combine nuts with water in a jar or bowl and let stand for 4 to 8 hours, or overnight (almonds are very dense and need 24 hours).
After presoaking, drain and rinse in a mesh strainer* and combine in the blender with ¾ cup fresh water. Blend until you have a smooth, creamy consistency, adding a little more water, if necessary. Add any of the optional ingredients and blend again briefly. Note: the presoak process has already converted some of the starches into sugars, so sweetening may not be necessary.
*Almonds can be blanched by placing drained nuts in very hot water for 1 minute, or until the skins slip off easily when squeezed between the thumb and forefinger.
The following is high in fiber, protein and beneficial unsaturated fatty acids. Its creamy texture owes to the gel formed by the seeds.
Breakfast Pudding
Yields 1 cup
1 c. purified water
4 Tbsp. ground flaxseed, or 2 Tbsp. ground chia seeds
1 Tbsp. date sugar, or 1½ tsp. Sucanat (dehydrated cane juice w. vitamins and minerals intact); or use xylitol sugar granules, or liquid stevia to taste.
Optional Additions:
a pinch of salt
1 tsp. vanilla or almond glycerite (alcohol-free extract)
In a bowl combine dry ingredients, then whisk in water and let stand for 5 to 10 minutes while you prepare the fruit (or cover and refrigerate for overnight soaking).